We are on a mission to change the world by igniting the creativity of young people and inspiring them to solve problems through entrepreneurship.
We envision…
a world where the cultural instinct of waiting to get picked is replaced by the bold confidence of Picking Yourself; and
a generation equipped with the entrepreneurial mindset and skillset needed to create enterprises that solve problems.
Online Learning Communities
Young people are BRILLIANT! They can learn, grow and even THRIVE during this school disruption.
We are creating a space to connect young people to each other. A space for them to find others with shared interests. Encouraging them to host their own online meetups to teach what they know and learn from each other. We are mentoring them on how to create cool stuff together.
Online introductions on Tuesdays and Thursdays at 1pm EDT via Zoom (email [email protected] to register and get password)
Connect to our community anytime on Discord
Open to middle and high school aged young people
We are open to hosting other meetup times and/or more days of the week, if there is a need.

Our Approach
We help young people cultivate an entrepreneurial mindset and develop an entrepreneurial skillset by DOING entrepreneurial things. Here are a few of our favorite things…
co-create dynamic learning communities that empower personalized learning paths
use agile methods to hack our culture and foster collaboration and communication
use inquiry in authentic ways such as our Pick Yourself Project Podcast where we reflect on our learning and interview others who can advance our learning
Founding Team
Now recruiting youth Founding Team members
Interested?
Please call Nicole Colter at 860-917-5842 or email her at [email protected]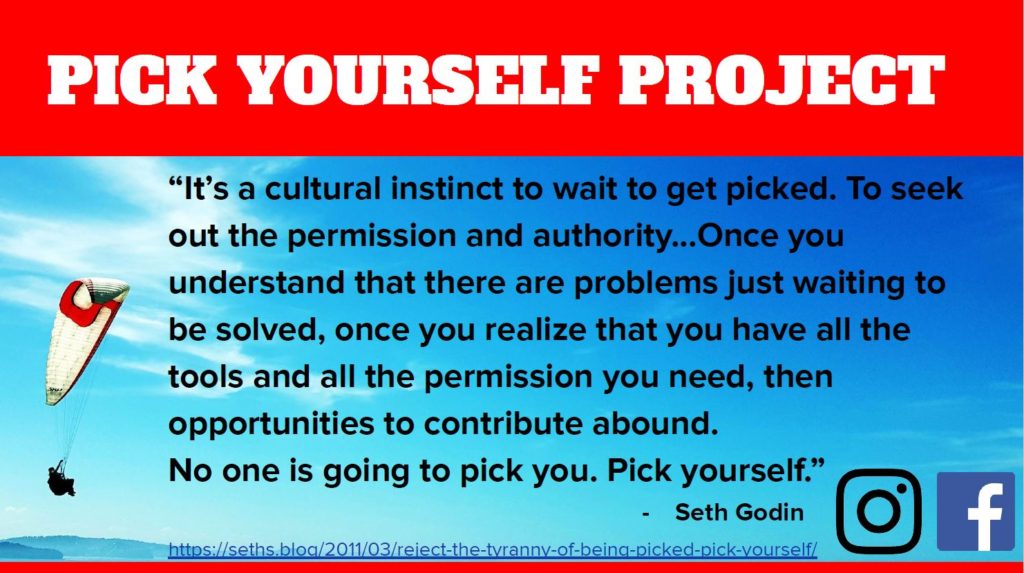 ---
Pick Yourself Project is a program of Kaleidoscope ALC, Inc., a Connecticut non-stock corporation and public charity, working to become a 501c3 non-profit.