Creative Problem Solving (CPS) is a process that can be used on countless challenges now and into your future.  It provides a reliable structured way to get to answers.  Some might call it a creative process for non-creative people, but everyone is creative in their own way so this isn't entirely true…but you get the point.  It is really just a description of the stages people naturally go through to solve problems except it is supercharged with tools to help you actually find solutions and not get overwhelmed or lost in the process.  In that way it is a little like a compass that you can use to orient yourself and ensure you arrive at your desired destination.
It isn't a linear process either; it is much more organic in nature meaning you don't have to enter at the first step or exit at the last and sometimes you can reassess or change directions in the middle.  It works best on ambiguous, ill-defined situations where the "way we've always done things" isn't going to work anymore.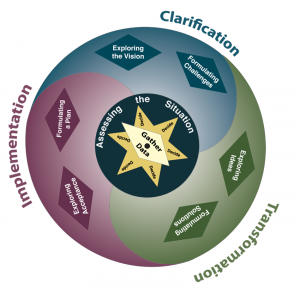 The graphic to the right is a representation of the Thinking Skills Model of Creative Problem Solving.  The 3 stages – Clarification, Transformation and Implementation each have 2 steps – an exploring (diverging) and a formulating (converging) step.  For more information about diverging and converging, see The Rules of Divergent Thinking and The Rules of Convergent Thinking.
At the beginning and throughout the process it is important to continually be Assessing the Situation which includes data gathering and decision making.
As a trained CPS facilitator, I can help you or a group navigate this process so that you can achieve clarity, transformation and a workable plan to implement by the time we are done!