I've been incubating the next chapter of my work for a few years now. Phase I was to reinvent myself and get clear on my vision. Phase II will kick into high gear this summer. My goal will be to make the steps in this next phase as transparent as possible as I believe aspiring entrepreneurs need to see behind the curtain including the entrepreneurial actions that are successful, and those that are not. This post was emailed to Alex Fiance, President/CEO of Kairos, who I learned about today through listening to my first episode of The Process, a new audio series by Michael Gervais and Finding Mastery.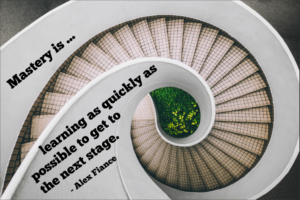 Dear Alex,
I just started to listen to Finding Mastery (FM) today and I scrolled through all the episodes and I'm so grateful that I chose Episode 1 of The Process as my first FM experience. I started and ran three small businesses over the course of 12 years and then moved into education as a community service learning coordinator at a high school. I am passionate about both education and entrepreneurship and really connected to the vision behind Kairos. Over the last 3 years I have been studying the science of creativity as I believe keeping the 5 year old creative genius alive into adulthood is the key to problems worth solving.
Like you, I believe young people really want to, and are capable of, solving problems that others can't see or solve. It sounds like you started on college campuses and now connect Kairos fellows to each other, to mentors and to the world thereby creating the Kairos Community. My goal is similar, but my interest is in people even younger—those of high school age. My time working in a high school has given me a front row seat to the widespread apathy and I have watched more talent squandered than I care to discuss. Nothing would make me happier than having the youth I'm working with want to be like Kairos entrepreneurs.
It is obvious to both of us, and so many others, that education needs to change to catch up with the world today and into the future. Unfortunately, "the school system" is highly resistant to change. There is a growing movement of parents choosing to educate their children under the homeschooling laws. Unschoolers, a subset of homeschoolers, believe that children are capable of educating themselves by following their own interests. In this model parents become facilitators of that learning, connecting them to resources and mentors. In recent years there is also growth in self-directed learning centers for children which are like coworking/makerspaces for unschoolers including Liberated Learners, Agile Learning Centers and Workspace Education, one of the most impressive facilities I've ever visited.
I believe self-directed education is the future of education. My vision is to connect teenagers who want to pursue entrepreneurship to each other, to resources and to mentors. I have decided to start with unschoolers as choosing to, and learning how, to self-direct your own education is similar to the entrepreneurial leap and entrepreneurial learning that entrepreneurs must master. My hypothesis is that unschoolers are already entrepreneurial in their learning and can co-create the program that helps build the entrepreneurial mindset in other teenagers. I am meeting with a group of youth at Workspace next week as I get ready to develop an online learning community that will support youth as they start their entrepreneurial journeys together.
I am writing to ask if you, or one of your Kairos fellows might have some time over the next few months to offer some guidance on the development of this learning community. I will continue to listen to The Process but I believe my youth co-founders and I would really benefit from your expertise. If you want more information about my vision, please let me know. I have written a lot but I am not ready to publish that publicly yet.
Sincerely,