My first Twitter Chat was awesome! In addition to finding new people to follow, and links to valuable #ungrading resources, I actually engaged in dialogue that helped me see things in new ways. The best conversation I was part of started with the tweet below.
So even though I've barely used Twitter, and had never participated in a Twitter Chat, I discovered Dave Cormier's work in 2017, and I knew that he was active in these kinds of conversations. So once I mentioned him in my tweet, he quickly responded.
Together we were digging deeper into this illusion of 'content' and what it means to 'cover' it. Sprinkle in a little insightful humor from Dr. B. Haas' mom's education professor, and I start to realize this conversation has been going on for years among educators.
There were multiple responses to Dr. Heather Miceli's colleague's 'cover means to hide' insight. Bill J brings in the related word 'discover' and my heart leaps. I want my students to DIScover content.
We really were (un)covering something here.
After this conversation I was able to experience a deeper sense of freedom in thinking about my course redesign by focusing on…
What might be all the ways my students can DIScover content?
What might be all the ways to UNcover content?
What might be all the ways to REcover the joy of learning?
What might be all the more important things to learn than content?
Then I made a connection between the word 'content' we were discussing and the other meaning of the word…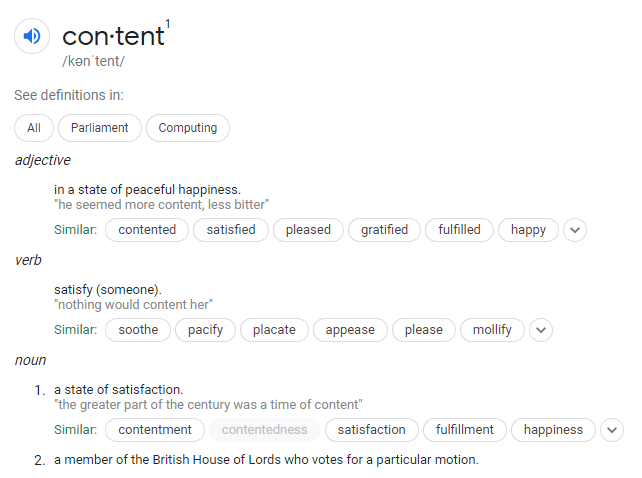 And this made me think…
How to keep DIScontent at bay for me and my students?
How to be content without content?
I'm excited for my next #Ungrading Twitter Chat and so very grateful for the insights expressed by these educators.
Just a reminder, this is #SelfDirectedEducation